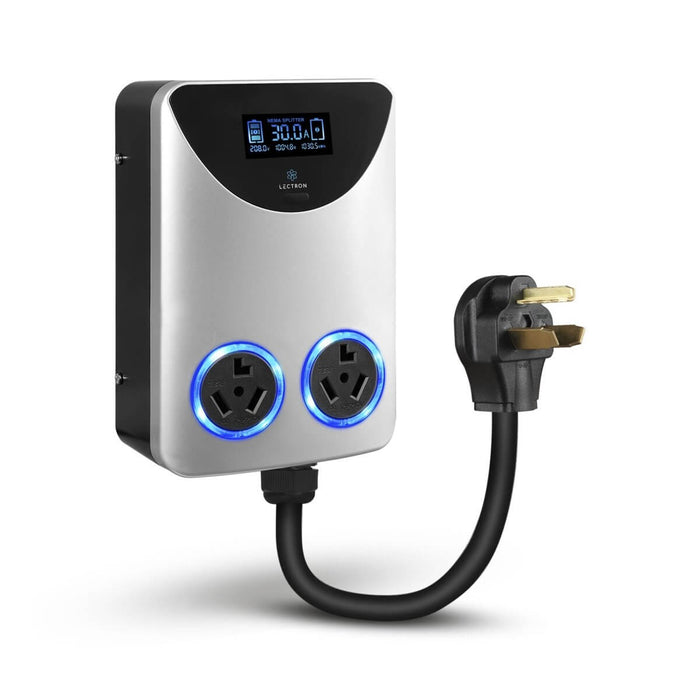 Lectron NEMA 10-30 Socket Splitter
Original price
$239.99
-
Original price
$239.99
*SHIPS WITHIN 1 - 2 WORKING DAYS
COMPATIBLE NEMA SOCKETS - This Lectron NEMA Socket Splitter has a NEMA 10-30 inlet plug, a NEMA 10-30 primary socket, and a NEMA 10-30 secondary socket.
CHARGE MORE CONVENIENTLY - This Lectron EV power splitter lets you use one outlet to power your Level 2 EV charger and high-powered appliance (washer, dryer, etc) - eliminating the need to install a second high-powered NEMA outlet in your home.
NO INSTALLATION COST - This Lectron outlet splitter saves you money by avoiding the high cost of installing another high-powered NEMA outlet to handle your EV charger.
SAFETY AND RELIABILITY ASSURED - The Lectron NEMA 10-30 splitter prioritizes safety with its ETL certification and built-in safeguards against overvoltage, overcurrent, and short circuits.
PRIORITIZED POWER SUPPLY - The NEMA socket splitter only sends power to one terminal at a time, and switches once the EV plugged into the charger in the primary socket is fully charged.