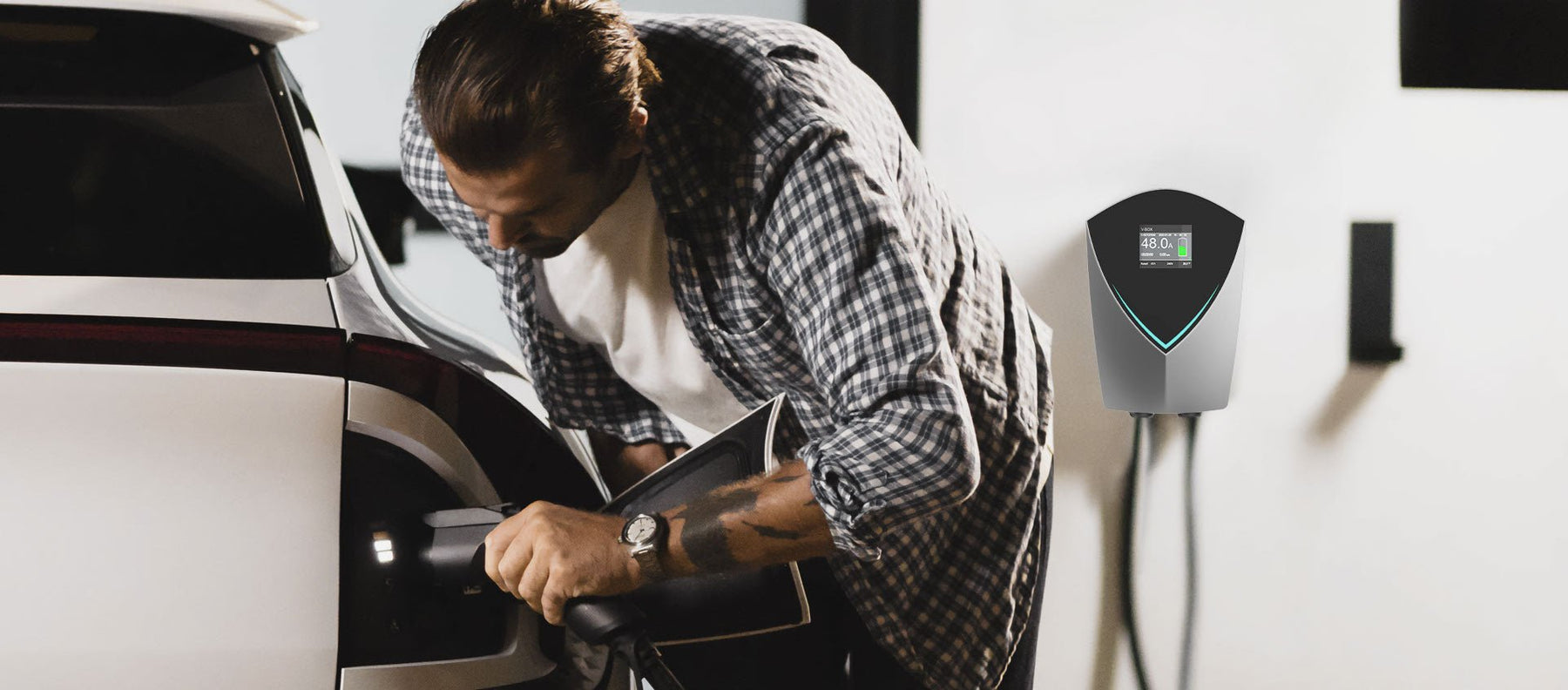 The story of the Lectron V-Box
The Lectron V-Box is a powerful in-home charging station that completely redefines your EV charging experience. Charging your car in as little as 6 hours, it is perfect for overnight charging, giving you a full battery for your daily commute. 
The V-Box is an SAE J1772 charger, which is the standard for most EVs produced in North America. You can plug it into a NEMA 14-50 outlet for a 40 amp output, or hardwire it for 48 amps of power (with adjustable amp settings from 16A, 24A, 32A, 40A, and 48A).
The 20-ft cord makes charging as convenient as it gets. Whether you're in your garage, driveway, or need to reach over other vehicles, our product ensures hassle-free and accessible charging for your electric vehicle.
Rugged design
The Lectron V-Box isn't just for your garage. If you want to install it on the outside of your house, you can go right ahead. It has a weather-resistance rating of IP55, which means it can stand up against the elements. What's more, it is EnergyStar certified to ensure maximum efficiency. 
The overall design is attractive and durable. It has a chromed plastic front panel, with a slanted profile that peaks in the center. The sides of the housing are matte black plastic, which is easy to keep clean.
A bright LED display is nested within a scrolling V-shaped light bar in the middle of the housing. On display, you can see everything you need to know. It shows your battery status, as well as the current rate of power delivery, grounding status, temperature, and estimated time remaining. You'll never be left guessing about what's going on with your charger. 
Mounting and maintenance 
Just when you thought the V-box was jam-packed with awesome features the added mounting, cable management, and maintenance add-ons put it over the top!
It includes a cable hook that can mount on the door next to the charger. You can hang your charging cable there when it's not in use, and keep everything organized.
And with the Lectron Charger Pedestal Stand, you have the freedom to mount your V-box in more places, without drilling into your wall – for a cleaner look. It also comes with a hook and holster so you can plug in and neatly wrap your cable when it's not in use. 
Want to keep track of how much energy your V-box uses? With the Lectron Energy Meter, you can measure your V-box energy consumption. It is rated to allow up to 100A and 240V, so it allows for more than enough to be used with the V-box. What's more, it has customizable settings, allowing you to adjust the password, timer, backlight, and other features!
Final thoughts
The V-Box makes charging at home faster and more convenient than ever before. With easy installation, rapid charging, and great add-ons, you have a powerful in-home charger that can easily charge your EV overnight!