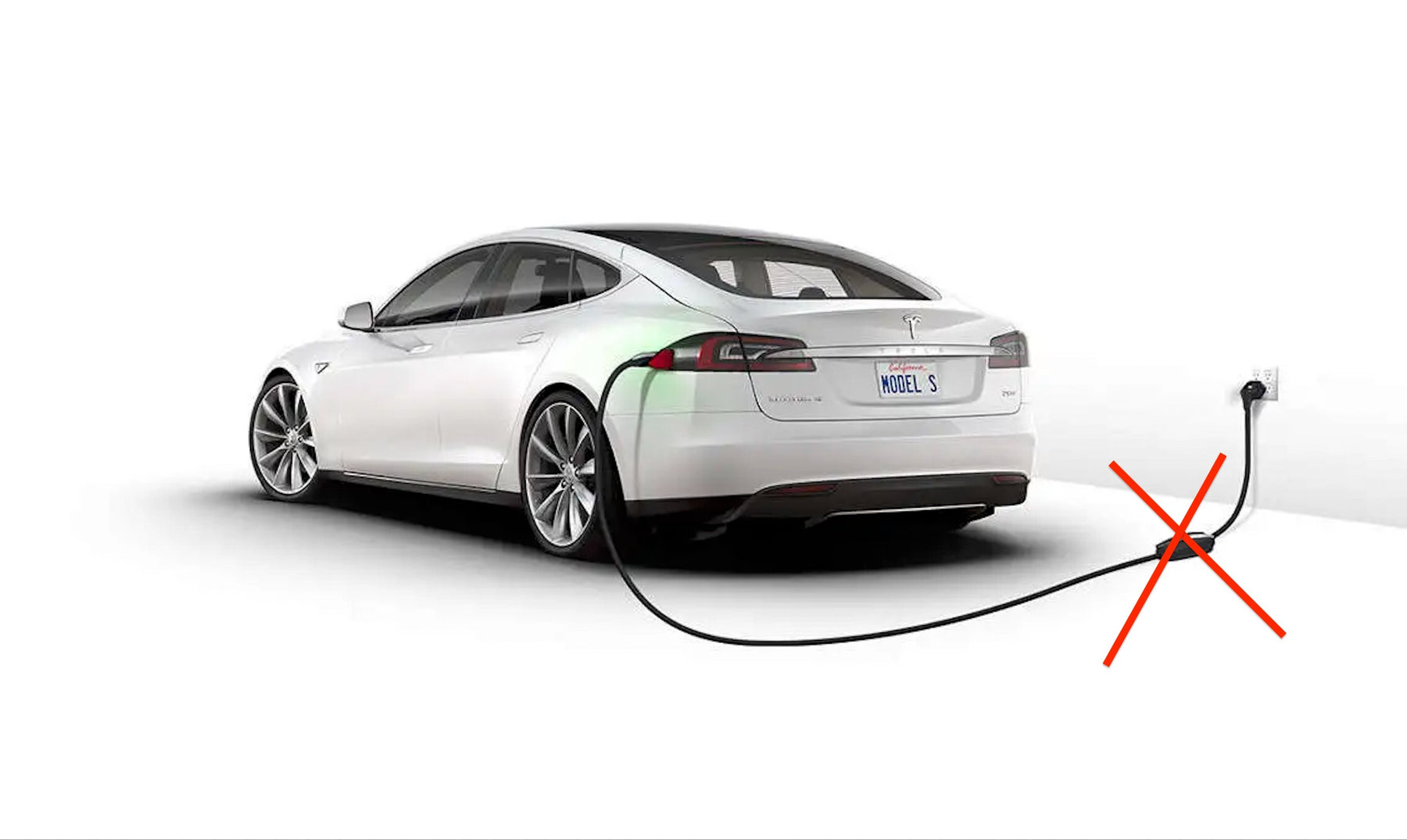 Shocking everyone — Tesla dumps EV charger from car purchases
That's right. NO charging equipment when you buy a Tesla.
Up until this point, if you bought any Tesla, you also received a Tesla Mobile Connector with your purchase, which allowed you to conveniently charge your Tesla from a standard wall outlet (NEMA 5-15), for a quick and easy way to power your car (even though it was slower Level 1 charging, it was still good to have).   
But now Tesla has decided to stop including the Mobile Connector altogether, citing low usage statistics.
What does this mean for Tesla buyers? 
Any Tesla sold after April 17th, 2022, no longer carries a Mobile Connector. Drivers need to shell out additional cash for a Mobile Connector (currently $400). 
Not only do buyers now have to pay extra for something that used to be included with their car, but the Tesla Mobile Connector is currently out of stock, and has been for quite some time.
This means when you finally drive your Tesla home from the showroom, there is no way for you to charge it, even when you get home! Let's hope you pass a Supercharger station before you run out of power and your car (and your EV dreams) come to a dead stop on the side of the road. 
What is the best solution?
Luckily, Lectron is stepping up to ease the pain. Recognizing the need for more Tesla charging options, we carry products specially designed to make sure Tesla drivers always have a solid charging option available to them. 
For example, our Tesla Charger ($379.99) is the most convenient Tesla charger on the market. It takes Tesla's relatively limited charger availability and makes it nearly infinite. With dual Level 1 and Level 2 charging plugs, Tesla drivers can power their EVs from either a NEMA 5-15 (16 amp) or a NEMA 14-50 (32 amp) wall outlet. This means that virtually wherever there is a power source, you can charge your Tesla! 
It also has a long 21-foot charging cable that can reach across your garage, driveway, or parking space — making it the perfect one for charging your Tesla at home AND on the go.
Another way Tesla drivers can get more charging access is with the Lectron J1772 to Tesla Adapter ($69.99). It expands charging availability by giving Tesla drivers access to any J1772 charger or charging station across the nation. 
It's also compact and lightweight, fitting easily in a glove compartment. And with a maximum capacity of 60 amps and 240 volts, you can confidently charge your Tesla from any Level 1 or Level 2 charger. 
The Lectron Tesla to J1772 Adapter can be a valuable tool for Tesla owners, especially as the U.S. EV charging network continues to expand with support from the White House, which may primarily focus on J1772 charging stations.
Tesla drivers could also combine the J1772 to Tesla Adapter with the Lectron V-BOX ($469.99) — our most powerful charging station yet. It carries 48 amps and 240 volts of maximum output (with adjustable amp settings to allow for lower amp usage as well). 
The V-BOX manages to strike the perfect balance between futuristic and retro. With a smooth faceplate, gun-metal gray finish, and pulsating "V" light, it looks as fresh as your Tesla! When paired with the J1772 to Tesla Adapter, the V-BOX gives you a perfect, powerful in-home solution for charging your Tesla. 
So you're saying there's hope?
Not only is there hope, but a great opportunity. While the move by Tesla may seem puzzling at first, they are actually giving their drivers more freedom to explore other, more cost-effective charging options. Tesla drivers can use a powerful and convenient Lectron charger or adapter and continue to charge their Teslas — maybe even more conveniently than before!