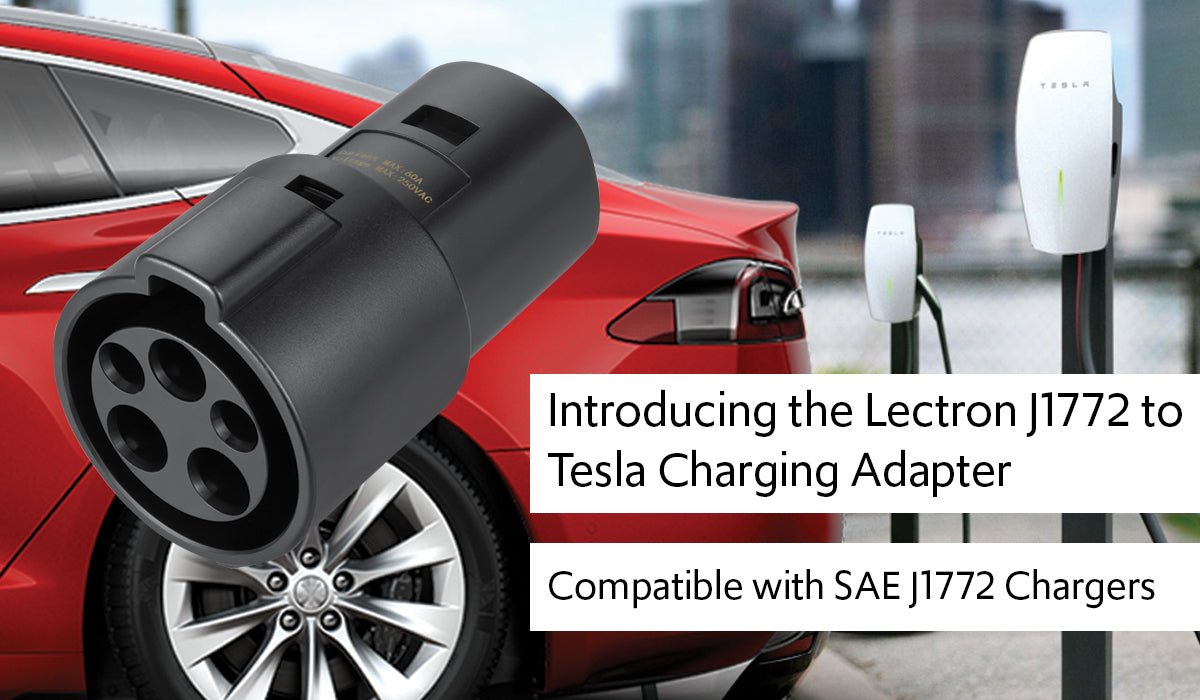 Lectron Proudly Introduces: J1772 to Tesla Charging Adapter
As of now, Tesla vehicles can only be charged in a Tesla Charging Station. This is one of the things Tesla users are ranting about. Tesla Destination Chargers are fewer compared to other EV chargers. With more people switching to EVs, there has been an overcrowding of charging stations. Have you ever had to wait for your car's turn to be charged even though there are other chargers not in use? It would be quite convenient to plug-in into any available charger, but you cannot due to your Tesla's incompatibility with it. Other times you may even struggle to find any charging stations. Well, here is the solution! Let us introduce you to the Lectron J1772 to Tesla Charging Adapter, 60A & 250V AC - Compatible with SAE J1772 Chargers. 
Enjoy the freedom of charging your Tesla with our J1772 to Tesla adapter at most Tesla charging stations, hotels, department stores, and parking lots. With our J1772 to Tesla Charging Adapter, you will no longer worry about your range. This adapter is perfect for those who are always driving to different places. Currently, there are 4,361 public charging stations for Tesla in the US, but with the help of our adapter, you will have access to a total of 28,194 Tesla & J1772 charging stations. Our adapter allows you to have access to 7.42 charging stations per 1000 square miles in comparison to 1.14 charging stations per 1000 square miles in the absence of the adapter. With 5 times higher charging stations density, you are bound to be back on the road more frequently.
Make the most out of the EV charging options for your Model S/3/X/Y. With compatibility for both Level 1 and Level 2 charging stations, you'll have access to a significantly larger number of charging destinations for your Tesla vehicles. Plus, you can rest easy knowing that this adapter is not only affordable, but also safe and effective in providing reliable charging for your Tesla. Simply plug it into a J1772 charging station, and you'll be ready to hit the road with confidence, knowing you have expanded charging options at your fingertips.
The adapter also comes with a lot of other great features. With an IP54 rating, this adapter is protected from water sprays, making it suitable for charging outdoors. With 60 amps of maximum current and 240 V AC of maximum voltage, charge your vehicle in just a few hours. It also has an operating temperature of -22°F to 122°F (-30°C to 50°C).  With its compact and portable design, you can store the adapter at the back of your trunk and bring it with you wherever you go.
In conclusion, with the use of this adapter, Tesla users can now drive and explore without any hesitation or concerns about charging. Say goodbye to worrying about your battery levels and remaining range during your journeys. This adapter provides the peace of mind you need, ensuring that you have a reliable way to charge your Tesla and make your way back home. Enjoy your Tesla driving experience to the fullest, knowing that you have a solution that guarantees a worry-free charging experience wherever your adventures take you.