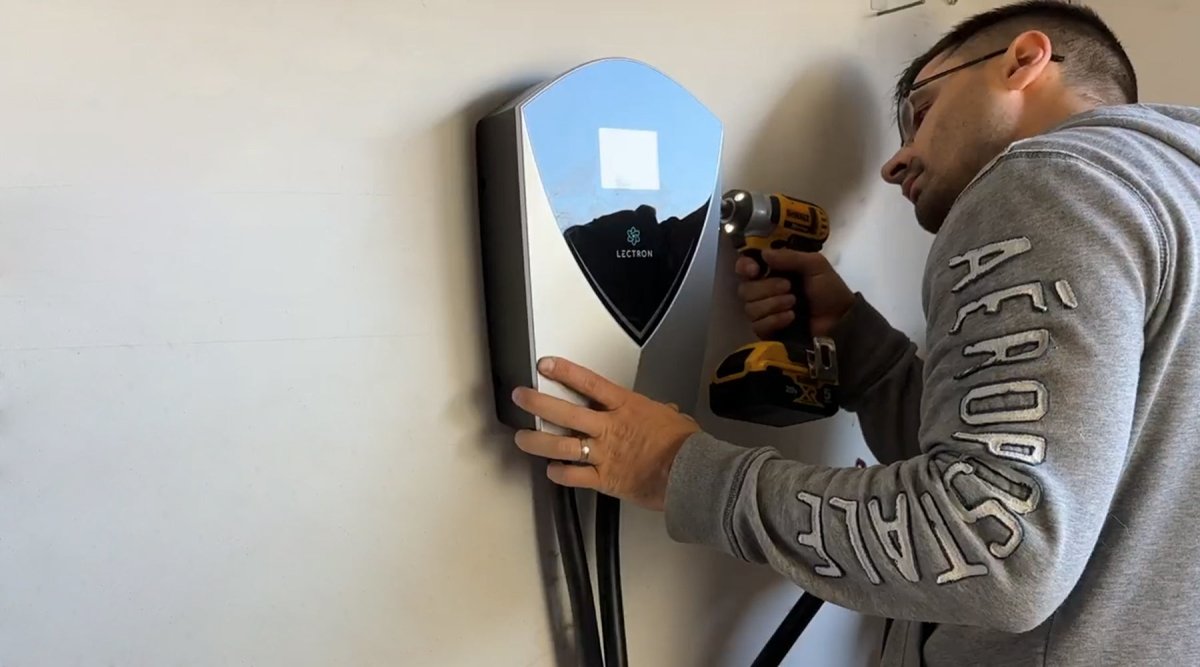 How to Install the Lectron V-BOX at Home
The Lectron V-BOX is a powerful home charging station that allows electric vehicle owners to enjoy Level 2 charging without the need for hardwiring.
While it can be hardwired into your home's electrical panel for faster charging (48 mph at 11.52 kWh), that'll require an electrician, which means additional costs.
The good thing about the Lectron V-BOX is its great and user-friendly customization, from its adjustable output to its two-way installation.
Since it can be plugged directly into a NEMA 14-50 outlet, skip the call to your electrician, grab a screwdriver, and follow this step-by-step installation guide.
Installation Guide
Remove the bracket from the V-BOX by unscrewing the 4 screws on the side.

After unscrewing all 4 screws, the bracket should come off from the charger's body.

Check the maximum output of the outlet where you want your charger installed. Inspect your electrical panel. The rule of thumb is to have at least a 20% buffer from the maximum output. So, for a 50A circuit, you'll be limited to 40A charging. Hardwire installation would need at least 60A.

By default, the V-BOX has been set to 4 (48A). To adjust the amps, unscrew and remove the plastic cover from the back of the V-BOX, and turn the dial on the inside to your preferred setting using a flathead screwdriver.

Find a good location for the charging station. Make sure that the NEMA 14-50 plug can reach the outlet. Mark your desired spot using a pencil if needed.

Use the included drilling reference paper for guidance to mark the wall where you plan to install the mounting plate. Then, drill the holes.

Insert the wall anchors. Then, align the mounting plate with the holes and fix it to the wall using the screws provided.

Attach the V-BOX by lining up the slots at the back with the tabs on the mounting plate. Then insert the short screws into the holes at the sides of the V-BOX, and place the screw caps on top.

Plug the power cable into a NEMA 14-50 outlet.

Press the power button at the side of the V-BOX. The button should light up GREEN.
Now, you can simply plug in your EV, turn on the V-BOX, sit back, and wait for the LED indicator to turn solid green when charging is complete.
Check out the Lectron V-BOX collection for accessories and exclusive bundles to level up your home charging experience.