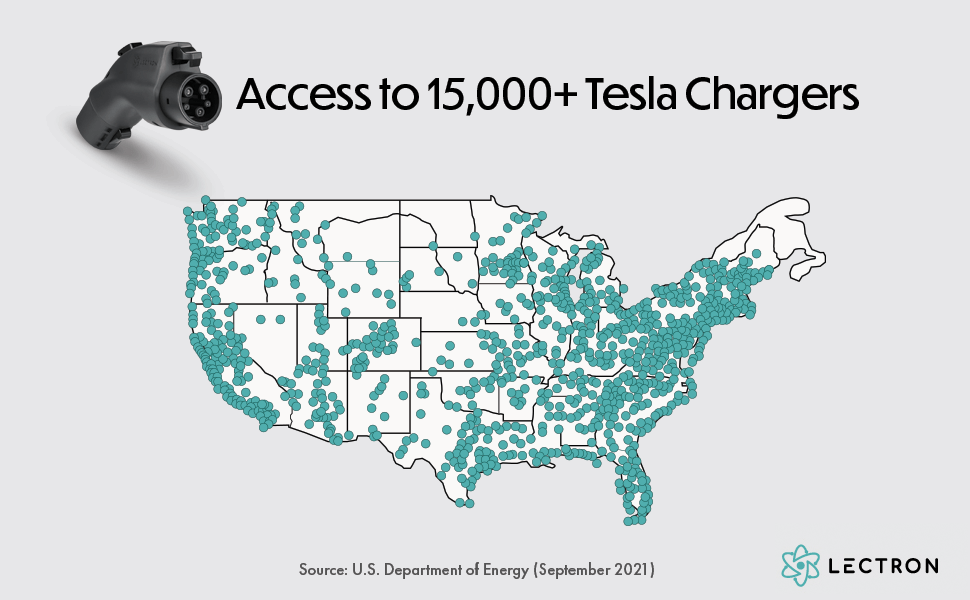 Attention J1772 drivers: you need THIS in your vehicle
I want to tell you guys about something you need to have when it comes to J1772 accessories. I'm talking about the Lectron Tesla to J1772 Charging Adapter. The reason this is so important is that it allows you to charge your non-Tesla EV at thousands of Tesla charging stations nationwide. 
First off, this thing is a total lifesaver. You instantly gain access to Tesla High Powered Wall Connectors, all generations of Wall Connectors, and Mobile Connectors. So whether you're commuting to work, cruising around, or road-tripping across the country, you'll be prepared for virtually any charging opportunity that comes your way. 
It's so user-friendly too. You just click it onto the end of a Tesla charging cable and plug it into your EV. The snug fit keeps the adapter firmly in place while it charges your vehicle, so you never have to worry about it sliding out and suddenly losing charge. 
Another thing that makes it so easy to use is how lightweight and compact it is. It's light enough to carry around (under 18 ounces) and small enough to fit in your glove box, which is pretty amazing when you consider the massive power output. In fact, it's the only adapter on the market that supports 48 amps of maximum current and 250 volts of maximum voltage. This gives you an incredibly fast charging capability, so you can spend less time worrying about charging and more time enjoying the ride!
EV drivers all across the country are loving this adapter too. You can see it on Amazon's Best Sellers list for Electric Vehicle Charging Equipment, where it retails for just $159.99. The 1-year warranty also allows you to buy it with peace of mind — knowing that Lectron's got you covered in case anything comes up.
The bottom line is this: the Lectron Tesla to J1772 Charging Adapter is an absolute must-have in your EV tool kit. It's durable, lightweight, and incredibly compact. It has massive power output and retails for such a low cost. 
Whether you want to access Tesla's wide network of charging stations across the country, or you already own a Tesla charging station at home and want to use it to charge your J1772, this adapter is definitely your ticket to more power, more range, and more EV freedom.